Why am I seeing a message saying I'm approaching my limit?
WHMCS license pricing is structured in tiers, the tier is determined by the number of active client accounts in your installation.
This notice appears when you are approaching the maximum number of clients accounts permitted by the current license tier.
It provides advanced notice that when the current client limit is reached, the ability to manage further clients will be restricted
What do I need to do?
Before the client limit is exceeded, please contact your WHMCS license reseller to arrange an upgrade of your license to the next tier.
Who is my WHMCS license reseller?
The WHMCS license was supplied by your hosting provider as part of the service they provide to you.
Follow these steps to confirm the name of your WHMCS license reseller:
1. Login to the WHMCS Administration Area
2. Navigate to ? > License Information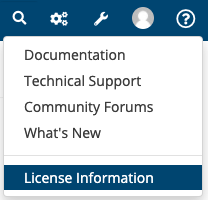 3. Observe the Registered To value on the page

This is the name of the reseller who supplied your license. Some resellers operate a number of brands, so the Registered To value may show the parent company name.
Are there any costs involved in license upgrades?
Your reseller will likely apply a charge for a higher tier WHMCS license. The exact price is determined by the reseller.
What is considered an active client account?
An active client is defined as a account with at least one active product, service, add-on or domain.
This is evaluated by the daily automation tasks and the status adjusted based on your Client Status Update setting.
How do I see how many active client accounts there are?

This article shows how to locate the current number of active client accounts: How do I see how many active client accounts there are?

What are the cost of the license tiers?

Please refer to the pricing guide on our website for the current pricing: https://www.whmcs.com/pricing/
What happens if I exceed the client limit?
Your installation will continue to function normally on the client side and retain the ability to accept new signups and orders.
Admin management functionality will be restricted to only those clients under your client limit. You will need to upgrade to be able to access and manage new customers.