WHMCS V5 is Now Out!
Lots of new features direct from your requests. Along with hundreds of tweaks and improvements to existing ones. Here's just a few highlights we picked, but if you have time, please read our
In Depth What's New PDF
for all the details…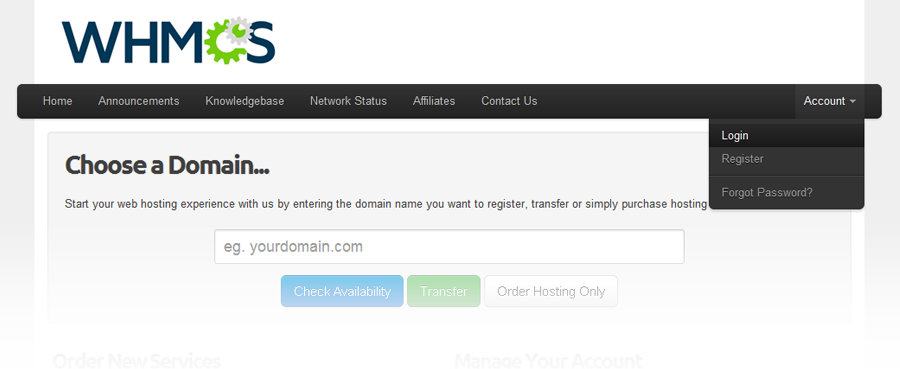 New Client Area Style
The debut of our client area redesign, giving WHMCS a fresh & modern new look, along with some additional functionality, and best of all, fully backwards compatable with existing integrations.

Product Bundles
Allowing you to combine products into predefined groups, with the ability to set pre-selected options in the order process and offer discount incentives for particular combinations.

Product Options
Now allowing for quantity options to be offered with products, as well as products with a fixed number of recurring terms, and improved configurable options base pricing display.

Domain Management
Clients can now manage their domains in bulk, with support for up to 5 nameservers, WHOIS updates from predefined profile and contacts data, and automatic nameserver resets to default.

Support Tools
New support tools include clearer contact handling in tickets, thumbnail attachment previews, a revamped admin open ticket process, support for custom KB article ordering and more…

Admin Dashboard Widgets
A revamped admin homepage now features customisable & movable widgets, with permissions definable per role, so that each member of staff can truly personalise their start page.

Additional Admin Tools
Lot's of new functionality for staff, including mass module commands, automatic prorata'd due date alterations, more search & filter criteria, & a staff noticeboard addon.

Automated Email Marketer
Follow up with clients automatically, and stay in touch with those who leave you. Maximise the potential of your client base by sending out auto emails using this powerful new tool.

Domain Pricing Slabs
Want to offer discounted domain pricing to selected customers? Well now you can, with domain pricing definable on a per client group basis, you can tier your prices to reward users.

Price Override Promotions
Offer promotional codes that override products to a specific price, enabling you to create offers such as "First Month Just $1″ via a single coupon code accross multiple product lines.
How to Upgrade
Existing WHMCS users can download the upgrade from the licenses section of our client area. All monthly leased users have access to new updates, but for owned users you will need to ensure you have a current support & updates package. If your support and updates access period has expired, then you will find the option to renew from the services menu which will give you immediate access to the new release.
If you are provided with a license via your web host, then you will need to obtain the update directly from them – if not available yet, they will add it to their available downloads area in due course.
How to Purchase
If you are new to WHMCS, you can find out more about what WHMCS can do for you in our features tour and see pricing for the various license options on our website. All purchases include a 30-day money back guarantee and full support to help you get up and running.