TLS/SSL certificates provide identity protection for online brands and security for visitors transmitting private data online.
Websites secured by TLS/SSL certificates are more trusted by internet users because they encrypt and protect private information transferred to and from the website and they ensure the identity of the website they are visiting.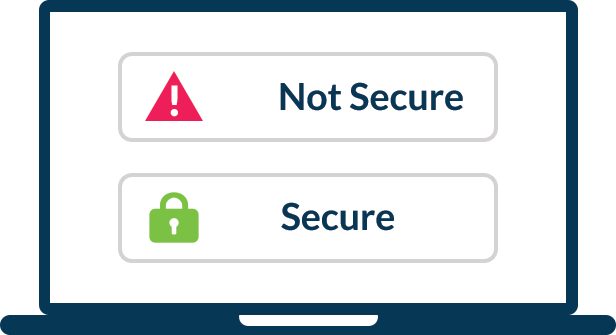 TLS/SSL certificates are essential for protecting both your own, and your customers, websites. They are the standard used by all major web browsers to ensure a safer internet experience for users, and browsers will now flag websites that aren't protected by a TLS/SSL certificate.
Offer your customers a solution from the leading brand in security
DigiCert is trusted by the world's top companies to secure billions of transactions every day. With DigiCert, your customers are protected by a TLS/SSL certificate from the industry's most trusted provider of high-assurance certificates.
We've teamed up with DigiCert to be able to bring WHMCS powered web hosts full end-to-end SSL Automation with leading SSL brands including RapidSSL and GeoTrust.
Instant setup and activation - start selling in just minutes
Ready-made landing pages to help promote and educate customers about your SSL offerings
Automatic population of SSL products - just pick the certificates you want to sell
Built-in promotion of the benefits of higher level OV and EV certificates
Fully Automated SSL Issuance, Deployment and Installation with cPanel, Plesk & DirectAdmin
Integrated upsells and promotions in web hosting purchase and checkout flows
Integrated management - manage all aspects of certificates without leaving WHMCS
Competitive Upgrade enables customers to switch from competing SSL providers without losing time
Automatic provisioning and installation technology allows customers to purchase and add SSL to their site in
just a few clicks
.

Everything you need to start selling right away
Ready-made landing pages mean you can start promoting and selling SSL Certificates instantly. See demos
What users are saying
MarketConnect has made SSL certificate selling fully automated and easy taking the burden away from our support staff.
MarketConnect allows me to offer my customers SSL certificates automatically, easily and at competitive prices.
The MarketConnect integration for SSL has increased our SSL revenue 10x.

MarketConnect is easy to set up and allows you to quickly resell services like SSL certificates and website builders. MarketConnect being fully automated is the cherry on top.
I was able to start selling SSL certs right away with MarketConnect. The automated process makes purchasing and upgrading SSL certificates very easy.
MarketConnect helped us sell hosting related products like SSL more efficiently. The automation aspect is quite a game changer. Even though we are able to do this manually, nothing beats having to just click a button and see magic happen.
Get Started in 3 Simple Steps
1
Install/Upgrade
to WHMCS 7.2 or later
2
Register
for MarketConnect