Software Licensing
Build, License and Distribute your PHP software applications with WHMCS Licensing Addon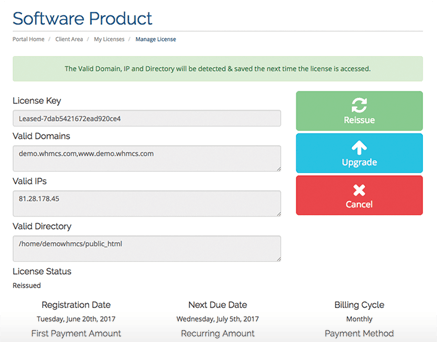 Smart, simple and automated licensing
Use a tried and tested platform to protect and license your apps
We use the WHMCS Licensing Addon to license and distribute the WHMCS application to thousands of customers
The licensing addon module for WHMCS allows you to license your own web applications and restrict their use according to your licensing agreements. With the experience we've gained in licensing WHMCS itself, you can rest assured that your commercial products will be licensed by a strong and reliable system if you choose the WHMCS + Licensing Addon for your needs.
Supporting both local and remote key validation, remote checks where your software "calls home" to your WHMCS installation to validate the license work in tandem with local keys to ensure that your customers access is uniterupted regardless of downtime.
With ready made integration code provided for PHP applications, but with a flexible and open API, the WHMCS Licensing Add-on can be used to license software applications in any programming language.
Get Started with the WHMCS Licensing Addon
Already have WHMCS?
Add the Licensing Addon for just $99.95 One Time Includes lifetime updates
Don't have WHMCS yet?
Get started from just $18.95/month Then add Licensing Addon for just $99.95 One Time