The licensing addon module for WHMCS allows you to license your own web applications and therefore restrict their use according to your licensing agreements. Based on the experience we have in licensing our own application, you can rest assured that your commercial products will be licensed by a strong and reliable system if you choose the WHMCS + Licensing Addon for your needs.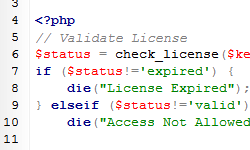 With the licensing addon, WHMCS becomes a complete client management, billing & support system for the software developer. With the WHMCS base product you know, combining ease of use, intuitiveness and flexibility, coupled with the licensing addon module, you are able to forget about the hassles of ordering, licensing and distribution of your software and focus on developing and supporting your product(s).
Licensing Options
The licensing module supports two methods of licensing – local & remote. The remote checks are where your product "calls home" to your WHMCS installation to validate the license. In the event that it is unable to do that, either due to your server being down or a firewall blocking the connection, it falls back to the local key licensing method which is a time limited encrypted key stored on the users server for use in the event of a remote check failure. This local key is updated every time a remote check is successful and ensures that your clients won't be locked out of your software should your server be down temporarily for any reason.
The code you need to use is provided for simply copying & pasting into your application code.
Software Options/Addons
You can license as many different applications as you want with the licensing addon. There are no limits on either the number of clients you can have or licenses you can issue. Licensing products can use any of the supported recurring billing cycles or have only one time fees.
It's also fairly common to want to offer product options when purchasing your products, such as a user limit, or in our case powered by line removal. With WHMCS this is as easy as creating a configurable option or custom field on the product to hold the value. The data from custom fields is returned to your app as part of the license check and can then be used within the app to determine limits or certain areas which can/can't be accessed.
Easy to Use & Fully Automated
With WHMCS, your signup process can be completely automated, from automatically issuing license keys for new orders to preventing downloads when a users support & updates period expires. You get the same automated order and payment processing functionality that you'll be used to with WHMCS and then on top of that, you get automated license issueing, allowing product downloads only for those with active support/updates packages and preventing access to those without, support for automated renewals of support & updates packages, and automated license reissues.
Manual management of licenses is also very simple, with the ability to create, suspend, terminate, reissue and revoke on demand.