Set your business apart from other web hosts… The customisable package addon lets you give your customers the choice of exactly what they want/need from their hosting package, so they get to pay just for what they need, and have it automatically provisioned onto your server.
Let your clients customise their hosting package
Allow customers to pay just for what they want, no more, no less…
Fully automated initial account setup based on selections
Automated upgrades/downgrades calculations & provisioning
Supported options include Disk Space, Bandwidth, No of FTP Accounts, No of Email Accounts, No of SQL Databases, No of Subdomains, Frontpage Extensions, Dedicated IP, CGI Access, Shell Access, No of Parked, No of Addon Domains, And more…
cPanel & DirectAdmin Supported for Automation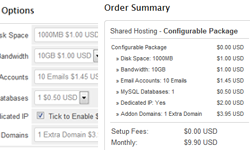 Pricing & Signup
The configurable package addon is available for a $69.95 one time fee. You can order it as an addon with your WHMCS license purchase or as an extra at any time using the buy now button above.